***Prices Reduced***
Gomph, Osborne, and other Leather Tools
All tools are in good condition unless I tell you otherwise. The price of each tool is included in the description.
I hope you will find something you can use here, especially if you are in the business of working with leather.
If you have any questions about these tools, please e-mail me at toolman@gatctools.com.
Note: Shipping will depend on size and weight. USPS Flat Rate boxes work well for smaller items, especially multiple small items. I will send you an estimate of the total cost to the best of my ability.
If you wish to pay by check or money order,
send it payable to:
Walt Lane, 3 Pewter Lane, Johnstown, NY 12095
Last updated: August 8, 2023
---
C. S. Osborne, Newark, NJ - These are the early Osbornes of good quality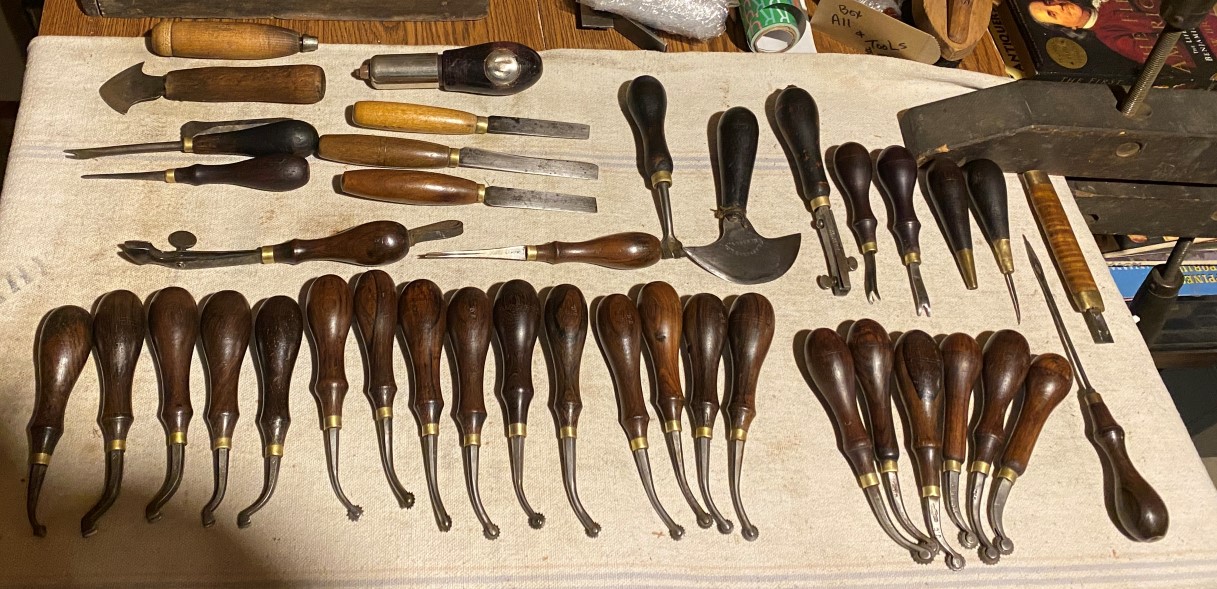 The tools shown above were found in an old barn in upstate New York.
They had been residing there for many years, some in their original tool chest,
but many just scattered about. Fortunately, most had little or no rust,
except one Round Knife. They were all pretty grungy and have been cleaned
and restored to very good working condition.
The points on the wheels are still nearly as sharp as when new
and the cutting edges appear sharp as well. A lucky find.
==============================================
51A-01 - Overstitch Wheel #8, cleaned and sharp.
{price = $30.00 plus shipping} Z Pic
51A-02 - Overstitch Wheel #9, cleaned and sharp.
{price = $30.00 plus shipping} Z Pic
51A-03 - Overstitch Wheel #10, cleaned and sharp.
{price = $30.00 plus shipping} Z Pic
51A-04 - Overstitch Wheel #10, cleaned and sharp.
{price = $30.00 plus shipping} Z Pic
51A-05 - OverstitchWheel #11, cleaned and sharp.
{price = $30.00 plus shipping} Z Pic
51A-06 - Overstitch Wheel #12, cleaned and sharp.
{price = $30.00 plus shipping} Z Pic
51A-07 - Straight Channeler, cleaned and sharp.
{price = $48.00 plus shipping} Z Pic
51A-08 - Edge Shave #3, cleaned.
{price = $15.00 plus shipping} Z Left Pic
51A-09 - Edge Shave #3, cleaned.
{price = $15.00 plus shipping} Z Right Pic
51A-14 - Head Knife (French?), 3 1/2", cleaned.
Some damage to handle (see pic).
{price = SOLD plus shipping} Z Pic
51A-15 - Round Knife, 5", cleaned.
Slight damage to one tip (see pic).
{price = SOLD plus shipping} Z Pic
51A-16 - Round Knife, 5 1/2", cleaned.
Some pitting on blade, so not perfect.
{price = SOLD plus shipping} Z Pic
---
---
Henry G. Gomph & Co., Albany, NY - Also found with above Tool Chest
51B-01 - Patent Leather Gum Tool, cleaned.
{price = SOLD plus shipping} Z Pic
51B-02 - Double Edge Creaser #3, cleaned.
Left tool in pic.
{price = SOLD plus shipping} Z Pic
51B-03 - Double Edge Creaser #4, cleaned.
2nd left tool in pic.
{price = SOLD plus shipping} Z Pic
51B-04 - Single Edge Creaser #3, cleaned.
3rd left tool in pic.
{price = SOLD plus shipping} Z Pic
51B-05 - Single Edge Creaser #4, cleaned.
Right tool in pic.
{price = SOLD plus shipping} Z Pic
51B-06 - Single Tickler, cleaned.
{price = SOLD plus shipping} Z Pic
51B-07 - Layer Screw Creaser, cleaned.
{price = SOLD plus shipping} Z Pic
---
---

Other Leather Tools - sure, same chest (see above)
51C-01 - Hachinette Knife, France, in Good+ condition.
{price = $35.00 plus shipping} Z Pic
51C-03 - Saddler's Needle, Unmarked Osborne???,
in fine condition.
{price = $20.00 plus shipping} Z Pic
51C-04 - Trimming knives (3), unmarked, definitely used,
but in Good condition.
{price = $15.00 each plus shipping} Z Pic
51C-05 - Edge Shave #4, by John Adams, in Good+ condition.
{price = $23.00 plus shipping} Z Pic
51C-07 - 5 assorted Awls
{price = $45.00 plus shipping} Z Pic
51C-08 - 3 Assorted Awls
{price = $40.00 plus shipping} Z Pic
51D-01 - Glovers Needles. 25 per pack.
{price = $10.00 per pack plus shipping} Z Pic
51D-02 - Harness Needles. 25 per pack.
{price = $10.00 per pack plus shipping} Z Pic
---
13
A working saddle-maker's bench. (Not for sale)
Please Return to Home Page
To see the rest of my tools
My Retail Shop
Stop in for a visit when you are in the area
Little Falls Antique Center
25 West Mill Street
Little Falls, NY 13365
Open Wednesday thru Monday, 10AM to 5PM
Please send me an e-mail with any selections you would like to have.
I haven't gotten fancy with order forms here.
My e-dress again is: toolman@gatctools.com